Rosh Ha'Ayin, Israel – October 15th, 2023 – Waterfall Security Solutions, the leader in OT cybersecurity, today announced its partnership with Resec, a leading provider of zero-trust malware prevention solutions, to enable organizations with secure data transfers and safe device access between low-security and high-security networks.
The new partnership is aimed at boosting cybersecurity for high-profile customers, such as governments, homeland security, critical infrastructures, and defense organizations.
The combination of Waterfall's Unidirectional Security Gateways paired with Resec's anti-malware solutions provides a robust level of cybersecurity that protects against even the most advanced threats.
"Resec is joining forces with Waterfall Security to meet market demand by organizations aiming to adapt a preventative approach for both the transfer of the data as well l as the data itself", said Oren Shnitzer, CTO and co-founder of Resec. "As the cyber threat environment grows with time, so does the need to bolster the defensive posture against such threats".
Multiple deployment options are available when combining Resec with Waterfall, including a transfer-first approach, or a content-first approach, depending on the priorities of each customer.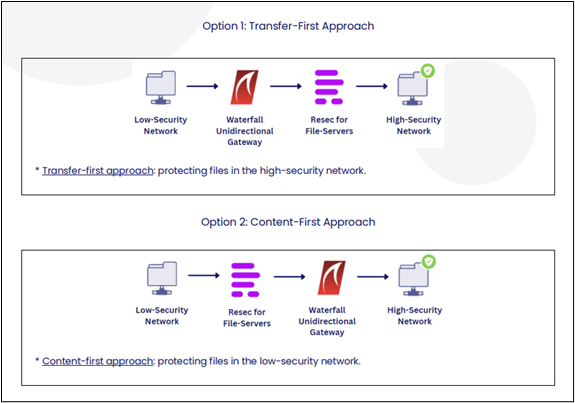 "Our customers are up against a growing threat of cyber attacks, on their infrastructure and operations, as well as on the data they use. Today's risk level is much higher than just a few years ago, for governments, critical infrastructure, and other essential facilities." said Lior Frenkel, CEO of Waterfall Security. "By combining Waterfalls unidirectional gateways with Resec's innovative secure file replication technology, organizations are now able to overly secure both their files and networks in ways that leave little room for surprises."
About Waterfall Security Solutions:
Waterfall Security Solutions' unbreachable OT cybersecurity technologies keep our world running. For more than 15 years, critical industries and infrastructure have trusted Waterfall to guarantee safe, secure, and reliable operations. Waterfall's growing list of global customers includes national infrastructures, power plants, nuclear reactors, onshore and offshore oil and gas facilities, refineries, manufacturing plants, utilities, and more. Waterfall's patented Unidirectional Gateways and other revolutionary products combine the benefits of impenetrable hardware with unlimited software-based connectivity, enabling 100% safe visibility into industrial operations and automation systems.
Learn More at: https://waterfall-security.com/
About Resec:
Resec provides organizations with ultimate protection from known and unknown file-based malware threats from email, removable devices, and file-transfer threat vectors (web uploads/downloads, API, File Server). Always positioned between the threat and the organization, Resec's Zero Trust Prevention platform provides unparalleled security with unmatched usability. Resec is deployed globally in highly sensitive organizations from diverse industries, including finance, critical infrastructure, defense, government, telecommunications, and airlines.
Learn more at https://resec.co