Waterfall for Intrusion Detection Systems (IDS) enables IT networks to safely monitor OT systems to detect intrusion attempts by preventing the risk of anything going back into the OT networks via the IDS.
 Waterfall for IDS is a hardware-enforced, physical barrier that ensures data can only flow in one direction that prevents remote attacks, malware, DOS attacks, ransomware and human errors originating on external networks.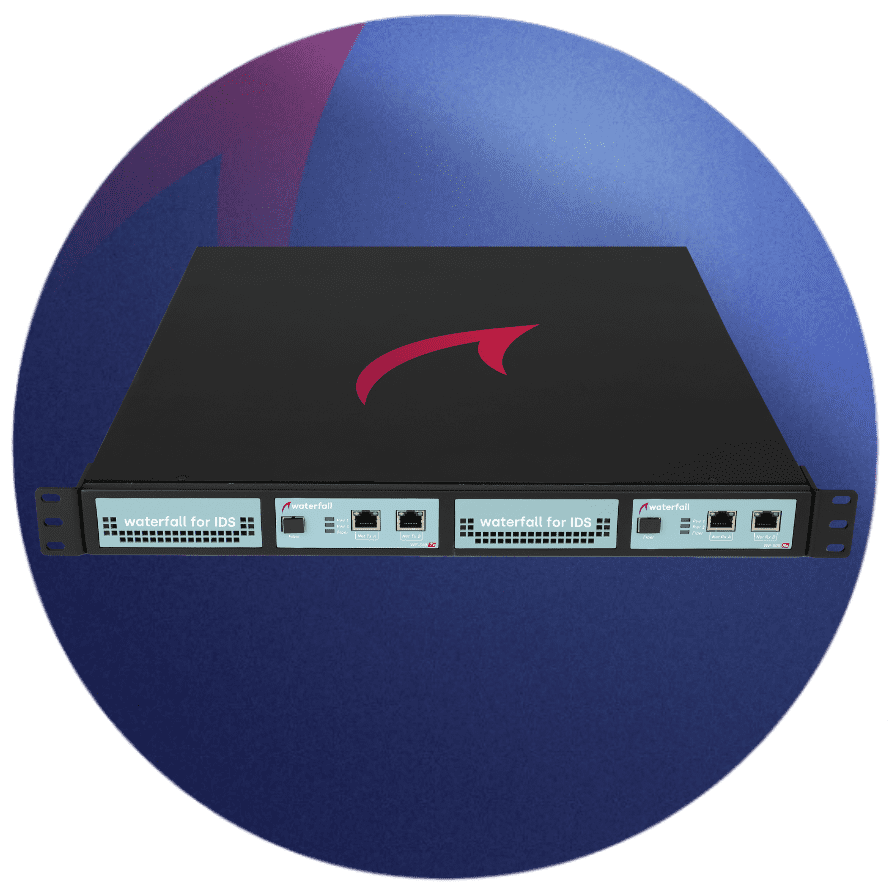 An OT network safely to IT-resident OT IDS sensors

The OT network accurately through the unidirectional hardware

OT IDS sensors conveniently on IT network without risk to operations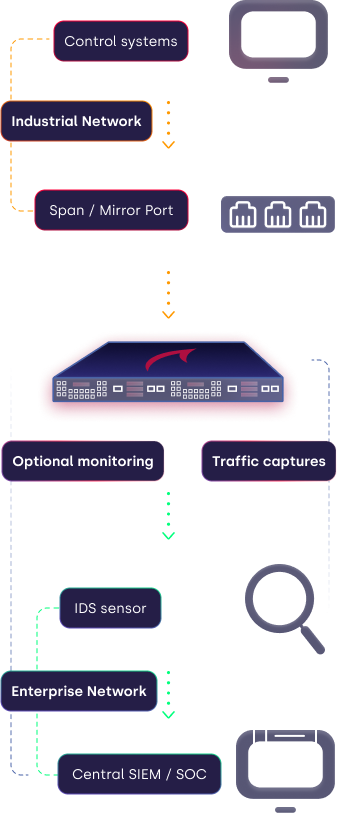 Enables monitoring of OT networks without introducing new connectivity risks to the monitored networks
All functions in gate array logic, with no hosts introduced to IT or OT network
Network sensors can be deployed on IT networks for easy management by SOC analysts, without risk to OT networks
Eliminates bidirectional mirror port risks
Mirror ports are no longer a risk to OT networks when OT IDS sensors are deployed on IT networks
Seamless integration with SOCs
Supports stand-alone operations
and integration with industry-leading SIEM/SOC solutions
Unbreachable physical barrier
Hardware-enforced technology protects OT networks absolutely from cyber attacks pivoting through OT IDS sensors
Simple hardware-only design with no CPUs to manage

1Gbps copper connectivity

Front panel cabinet connections for clear unidirectionality

Mirror port accurately emulated to IT-resident OT IDS sensors

Optional flow statistics reported to SIEM / SOC / NOC
Standard Rackmount Dimensions
48.3(W), 52(D), 4.4(H) cm
Din Rail Rackmount Dimensions
11.3(W), 25(D), 21.3(H) cm
2.5 kg (Standard) | 3 kg (Din Rail)
Certification & Compliance
Common Criteria EAL4+, Singapore NITES, Korean KC, Israel NIS
Idaho National Labs, Digital Bond Labs
Global ICS Standards & Regulations, NERC CIP, IEC 62443, NRC 5.71, NIST 800-82R2, CFATS, ISO, Industrial Internet Consortium SF, ANSSI ICS Standards, and many more
One way for data.
Zero entry for attackers.