The WF-500 Waterfall Unidirectional Security Gateway offers unbreachable industrial protection, enables safe IT/OT integration, secure remote access, and unlimited industrial network monitoring.
Replacing just one layer of firewalls with Unidirectional Gateways in an industrial network environment provides OT networks with an unbreachable level of protection, even against the most sophisticated modern cyber attacks.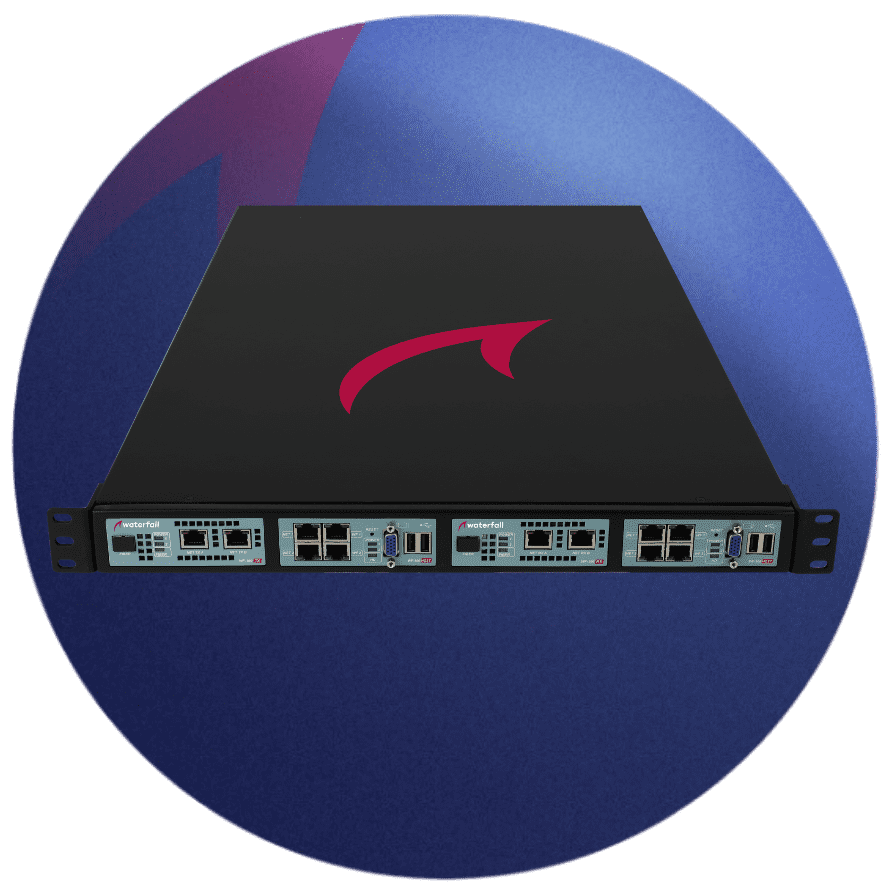 The software replicates servers, while the hardware provides an impassable physical barrier to attacks

An OT network safely to a less secure IT network

The OT network with hardware-enforced technology

OT data in real-time to external networks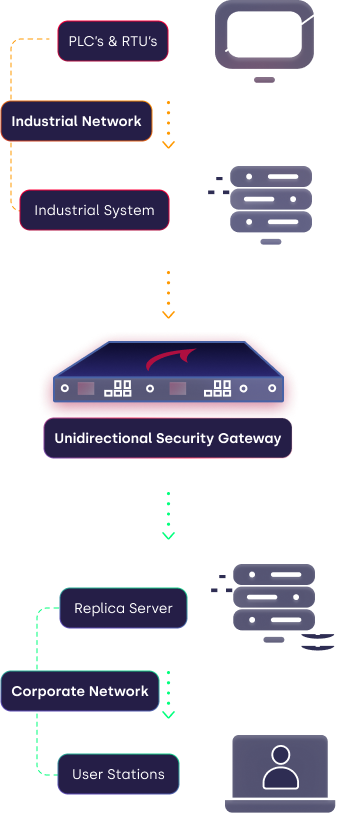 Seamless IT/OT network integration. Combining the benefits of impenetrable hardware with software- based connectivity.
Defeats online cyber attacks
Reduce down-time, equipment damage, environmental & public safety incidents and ensure operational continuity by preventing cyber attacks
Without the need to install software on industrial networks making OT networks transparent to enterprise users and applications
An extensive library of software connectors for industrial systems and devices
Enable safe vendor monitoring, secure remote access and real-time enterprise-wide visibility into operations
Unbreachable physical barrier
Protects absolutely from online cyber attacks from IT networks or the Internet

Hardware is modular, flexible, and user-serviceable

1 Gbps standard throughput

Optional High-Availability configuration

Front panel cabinet connections for clear system visibility

Compatible with Waterfall's large library of off-the-shelf connectors

Flexible connector hosting supporting all major operating systems
43.5(W), 76(D), 4.36(H) cm 1U standard rackmount
Certification & Compliance
Common Criteria EAL4+, Singapore NITES, Korean KC, Israel NIS
Idaho National Labs, Digital Bond Labs
Global ICS Standards & Regulations, NERC CIP, IEC 62443, NRC 5.71, NIST 800-82R2, CFATS, ISO, Industrial Internet Consortium SF, ANSSI ICS Standards, and many more
One way for data.
Zero entry for attackers.