New York – December 10, 2014 – Waterfall Security Solutions (Waterfall Security), which specializes in critical infrastructure protection and industrial control systems security, announced today the successful installation of Waterfall's stronger-than-firewalls, hardware-enforced Unidirectional Security Gateways at two sites in Japan addressing ICS security.
Cyber-attacks become more sophisticated with each day that passes, the safety and reliability of critical infrastructure sites is of growing concern to asset owners, regulators and governments around the world. Waterfall Security's Unidirectional Security Gateway technology, which was developed to address these threats and to allow safe and secure integration between control networks and business networks, is being deployed worldwide. The recent Waterfall Security deployment in Japan was aimed at assisting and securing a chemical and natural gas plant, and was integrated with Azbil Corporation (formerly Yamatake-Honeywell) DOGS solutions, and TAKEBISHI OPC servers.
Lior Frenkel, CEO and Co-Founder at Waterfall Security, said, "These recent installations in Japan demonstrate continued momentum in the adoption of Waterfall's stronger-than-firewalls technology in national critical infrastructures around the world. In Japan, as in other leading countries in Asia, industrial sites are applying best–practice security to defeat modern attacks on their control networks. Waterfall Security's Unidirectional Security Gateways currently protect power plants, chemical sites and gas control systems in Japan, and we look forward to expanding our install base into other sectors."
About Waterfall Security Solutions
Waterfall Security Solutions Ltd. is the leading provider of stronger-than-firewalls solutions for industrial control networks and critical infrastructures. The company's products are deployed in utilities and critical national infrastructures throughout North America, Europe, Asia and Israel. Waterfall's technologies reduce the cost and complexity of compliance with NERC-CIP, NRC, NIST, CFATS and other regulations, and include support for leading industrial applications, including the OSIsoft PI™ Historian, the GE Proficy™ iHistorian, Siemens SIMATIC™/Spectrum™ solutions and GE OSM™ remote monitoring platforms, as well as OPC, Modbus, DNP3, ICCP and other industrial protocols. Frost & Sullivan describes Waterfall's solutions as ensuring "optimum security for networks across user verticals," and awarded Waterfall the 2012 Network Security Award for Industrial Control Systems Entrepreneurial Company of the Year, the 2013 North America Award for Customer Value Enhancement and the 2014 Global Award for New Product Innovation Leadership. For more information, visit www.waterfall-security.com.
Azbil Corporation accepts no responsibility for the content and expressions used within communications issued by Waterfall Security Solutions.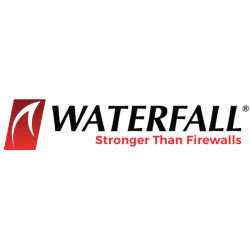 Latest posts by Waterfall Team
(see all)