Free consultation with Unidirectional solutions architect
Cyber Security Imperatives for Vital Rail Networks at OCC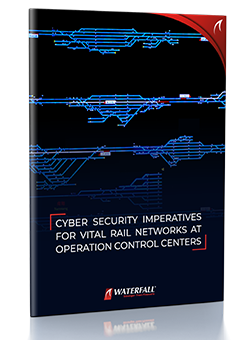 The Industrial Security Institute
OT / industrial / ICS cybersecurity concepts from the perspective of the world's most secure industrial sites. Truly secure sites ask different questions, and so get different answers. Subscribe to never miss an episode
Cybersecurity for Railway Systems Today
The cyber threat environment for rails operators grows steadily worse. For example, targeted ransomware attacks are currently using the techniques and technologies that only five years ago were considered the domain of nation-state adversaries. Rail system operators urgently need cybersecurity designs and solutions that will repel even the most sophisticated of cyber attackers, today and throughout the foreseeable future. Waterfall's Unidirectional Security Gateways enable are such solutions. Unidirectional Gateways are recommended by both IEC 62443 and the draft TS 50701 standards for rails networks requiring robust, long-lived security.
Hardware-based, physical protection from rail cyber attacks means that Waterfall solutions will continue protecting vital networks, no matter what software vulnerabilities may be discovered in the future. And all cyber attacks are information – this is what "cyber" means. Physically controlling attack information flows defeats cyber/information attacks, from the most mundane to the most sophisticated, both now and in the future.
About Dr. Jesus Molina
Dr. Jesus Molina brings 20+ years of cybersecurity experience to the rail sector. He is a speaker at the top security conferences, including RSA, Blackhat and IEEE Security, and his research has been featured in Wired and The Register. He serves as Security chair at the Industrial Internet consortium, and co-authored the Industrial Internet Security Framework. Jesus holds a M.S. and a Ph.D from the University of Maryland.
About Andrew Ginter
At Waterfall, Andrew leads a team of experts who work with the world's most secure industrial sites. He is author of two books on industrial security, a co-author of the Industrial Internet Consortium's Security Framework, and the co-host of the Industrial Security Podcast. Andrew spent 35 years designing SCADA system products for Hewlett Packard, IT/OT connectivity products for Agilent Technologies, and OT/ICS security products for Industrial Defender and Waterfall Security Solutions.
Andrew Ginter's Book
Secure Operations Technology
Share
WhatsApp
LinkedIn
Facebook
Twitter
Email