SUBSCRIBE


NEXT EPS.


PREVIOUS EPS.


PREVIOUS EPS.


SUBSCRIBE


NEXT EPS.

Free consultation with Unidirectional solutions architect
The Top 20 Cyber Attacks on ICS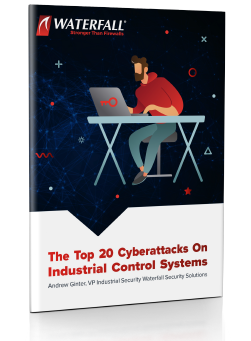 How to Protect Critical Infrastructure from Cyberattacks
Cyber attacks are targeting critical infrastructures, but shut downs are unacceptable. At Waterfall Security Solutions, we invented Unidirectional Security Gateways, the strongest cyber protection for industrial networks. Our gateways protect power plants and pipelines, railway systems, water treatment plants and more. Waterfall's products defeat 100% of online cyber attacks – for future-proof – industrial – cybersecurity.
About Waterfall Security Solutions
Waterfall Security Solutions is the OT security company, producing a family of Unidirectional Gateway technologies and products that enable safe IT/OT integration, enterprise-wide visibility into operations, and disciplined control. The company's growing list of customers includes national infrastructures, power plants, nuclear plants, off-shore and on-shore oil and gas facilities, manufacturing plants, power, gas and water utilities, and many more. Deployed throughout North America, Europe, the Middle East and Asia, Waterfall products support the widest range of leading industrial remote monitoring platforms, applications, databases, and protocols in the market
Andrew Ginter's Book
Secure Operations Technology
Share
WhatsApp
LinkedIn
Facebook
Twitter
Email