Cybersecurity for LNG Ports
Defending Critical LNG Import Terminals From Cyber Threats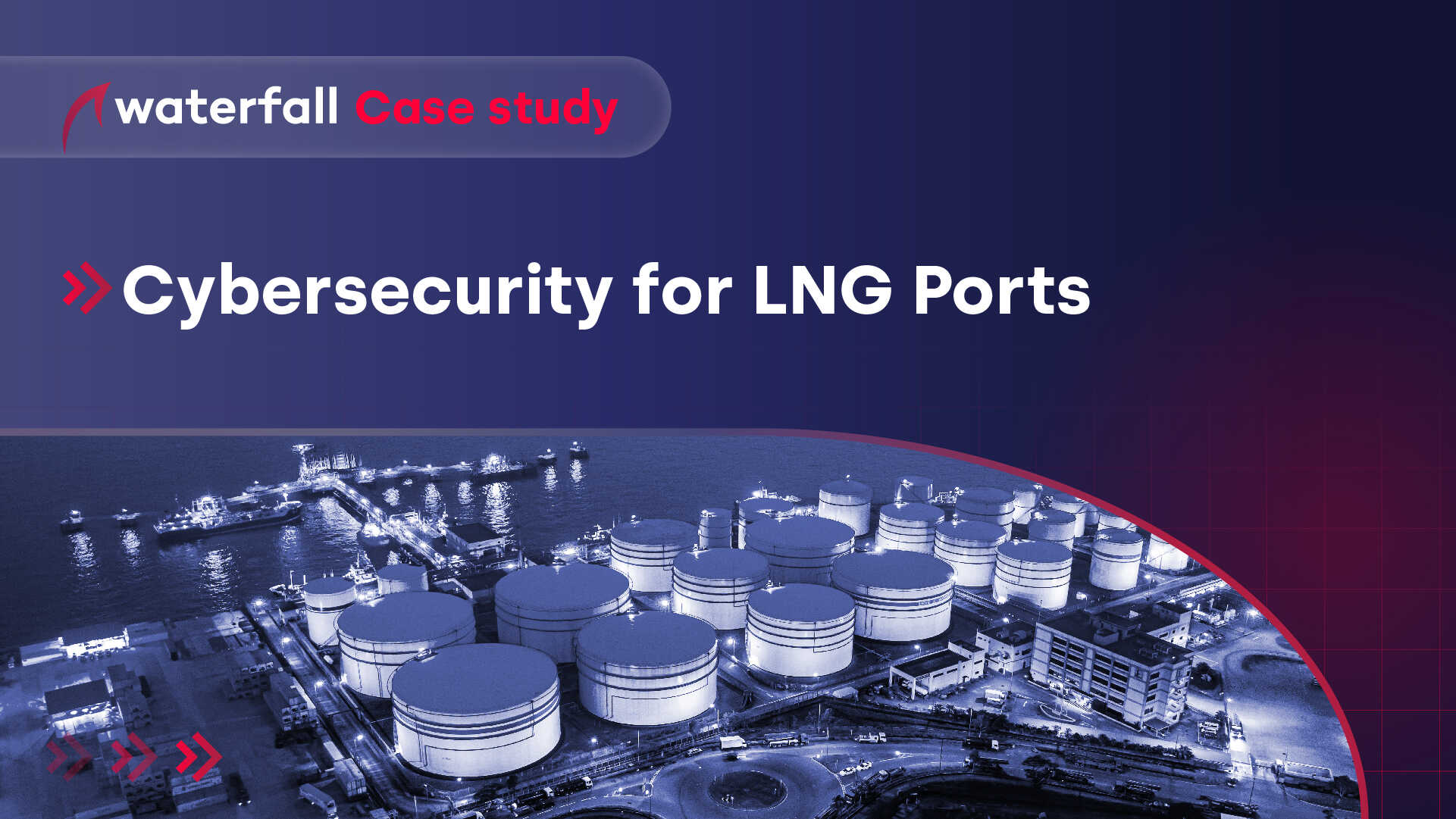 European LNG Import Terminal
Protect LNG infrastructure from remote cyber attack while complying with local cybersecurity regulations
Waterfall's Unidirectional Solution:
Secures control system network perimeters from external threats with Unidirectional Security Gateways, enabling enterprise-wide visibility for operations status and key performance indicators, as well as safe ICS network monitoring from a central enterprise SIEM.
Cybersecurity Is A Business Imperative For Lng Ports And Terminals
Because LNG infrastructure is highly visible and handles sensitive materials, the infrastructure can be vulnerable to targeted cyber attacks. With the growing global threat of sophisticated attacks and targeted ransomware, LNG facilities must protect industrial operations from attacks propagating from IT to OT networks. Cyber compromise can result in potentially catastrophic consequences to critical assets, the environment and even human life

Protect industrial control systems from remote cyber attacks to allow reliable and efficient operations, while enabling safe monitoring and optimization of operations. In addition, comply to current and anticipated local regulatory requirements for critical infrastructure networks

A Waterfall Unidirectional Security Gateway was installed connecting the port's control system networks to the port's IT network. Unidirectional Gateway software replicates OPC-DA servers from the control network to the enterprise network where PI Servers query and otherwise interact normally with the OPC replica server. Unidirectional Gateway hardware physically prevents cyber threats from reaching sensitive industrial control networks. Syslog, SNMP trap and other security monitoring data is also forwarded unidirectionally into a central Security Operations Center (SOC). Remote Screen View enables remote support.

100% Security: The LNG terminal network is now physically protected from threats emanating from external, less-trusted, Internet- exposed networks.

100% Visibility: The enterprise network benefits from real-time, comprehensive operational data. Instead of directly accessing servers on the critical operational network, external users access replica servers to meet business requirements.

100% Compliance: Unidirectional Gateways simplify compliance with global industrial control system cybersecurity standards and regulations by virtue of the strength of network protection they provide.

Waterfall Unidirectional Security Gateways replace firewalls in industrial network environments, providing absolute protection to control systems and industrial control networks from attacks emanating from external less-trusted networks. Waterfall Gateways contain both hardware and software components. The hardware components include a TX Module, containing a fiber-optic transmitter/ laser, and an RX Module, containing an optical receiver, but no laser. The gateway hardware can transmit information from an industrial network to an external network, but is physically incapable of propagating any virus, DOS attack, human error or any cyber attack at all back into the protected industrial network. The gateways enable control-system intrusion detection, vendor monitoring, industrial cloud services, and visibility into operations for modern enterprises and customers. Unidirectional Gateways replicate servers, emulate industrial devices and translate industrial data to cloud formats. Unidirectional Gateway technology represents a plug-and-play replacement for firewalls, without the vulnerabilities and maintenance issues that accompany firewall deployments

Unidirectional Security Gateways Benefits:

Safe transmission of OPC data to external networks without risk to critical networks

Safe monitoring of control system networks from external security operations centers

Safe remote supervision of changes to protected systems
 Simplifies compliance to local cybersecurity regulations and best practices

Global Cybersecurity Standards Recommend Unidirectional Security Gateways
Waterfall Security is the market leader for Unidirectional Gateway technology with installations at critical infrastructure sites across the globe. The enhanced level of protection provided by Waterfall's Unidirectional Security Gateway technology is recognized as best practice by leading industry standards bodies and authorities such as NIST, ANSSI, NERC CIP, the ISA, the US DHS, ENISA and many more.
Subscribe to our blog and receive insights straight to your inbox