Stronger-than-firewalls technology strengthens industrial control system security for Schneider Electric customers
New York – January 14, 2015 – Waterfall Security Solutions (Waterfall), which specializes in critical infrastructure protection and industrial control systems security, announced today that its Unidirectional Security Gateways have been accredited as "technology approved" by Schneider Electric, a global specialist in energy management. Waterfall earned the accreditation through Schneider Electric's interoperability labs after completing a vigorous testing process designed to determine the compatibility of partner products with Schneider Electric solutions.
"The cybersecurity of our customers is of the utmost priority, and Waterfall's stronger-than-firewalls solution enables us to deliver the superior level of protection needed to complement our core security offer," says Daniel Paillet, Cybersecurity Lead Architect at Schneider Electric. "In accrediting Unidirectional Security Gateways as 'technology approved,' our aim is to give customers the confidence to make more informed decisions about improving the strength of their cybersecurity operations."
Waterfall joined the Schneider Electric's Collaborative Automation Partner Program (CAPP) in June 2014 to bring its stronger-than-firewalls Unidirectional Security Gateways to Schneider Electric customers in nearly 200 countries. Waterfall's suite of solutions, including the award-winning FLIP™ product, enables safe IT/OT integration, remote monitoring and cloud services, defending industrial systems from the most mundane to the most sophisticated of attacks from corporate networks and from the Internet.
Lior Frenkel, CEO and co-founder at Waterfall, says: "Waterfall's Unidirectional Security Gateways are gaining global recognition as an industry best practice for securing critical control system networks. Being accredited as 'technology approved' by Schneider Electric further validates our commitment to critical infrastructure security and exposes Unidirectional Security Gateways to Schneider Electric's network of thousands of utilities."
Waterfall Security resource station:
About Waterfall Security Solutions
Waterfall Security Solutions Ltd. is the leading provider of stronger-than-firewalls solutions for industrial control networks and critical infrastructures. The company's products are deployed in utilities and critical national infrastructures throughout North America, Europe, Asia and Israel. Waterfall's technologies reduce the cost and complexity of compliance with NERC-CIP, NRC, NIST, CFATS and other regulations, and include support for leading industrial applications, including the OSIsoft PI™ Historian, the GE Proficy™ iHistorian, Siemens SIMATIC™/Spectrum™ solutions and GE OSM™ remote monitoring platforms, as well as OPC, Modbus, DNP3, ICCP and other industrial protocols. Frost & Sullivan describes Waterfall's solutions as ensuring "optimum security for networks across user verticals," and awarded Waterfall the 2012 Network Security Award for Industrial Control Systems Entrepreneurial Company of the Year, the 2013 North America Award for Customer Value Enhancement and the 2014 Global Award for New Product Innovation Leadership. For more information, visit www.waterfall-security.com.
About Schneider Electric
As a global specialist in energy management with operations in more than 100 countries, Schneider Electric offers integrated solutions across multiple market segments, including leadership positions in Utilities & Infrastructure, Industries & Machines Manufacturers, Non-residential Buildings, Data Centres & Networks and in Residential. Focused on making energy safe, reliable, efficient, productive and green, the Group's 150,000 plus employees achieved sales of 24 billion euros in 2013, through an active commitment to help individuals and organizations make the most of their energy. www.schneider-electric.com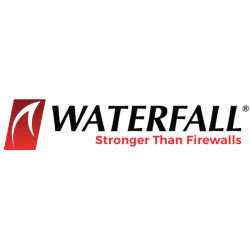 Latest posts by Waterfall Team
(see all)