Rosh HaAyin, Israel – June 25th, 2018 – Waterfall Security Solutions, a world leader for industrial cybersecurity, is proud to announce that its flagship product, the Unidirectional Security Gateway, has undergone rigorous auditing and testing by the French Agence nationale de la sécurité des systèmes d'information (ANSSI) and been awarded ANSSI-CSPN certification. Waterfall's Unidirectional Gateways provide safe IT/OT network integration and a secure gateway to industrial clouds, providing physical protection from attacks originating on external networks.
"The ANSSI standards for Industrial Control System cybersecurity are of the world's strongest standards, with clear recommendations and requirements for hardware-enforced unidirectional security," says Lior Frenkel, Waterfall's CEO and Co-Founder. "Waterfall is pleased to announce that ANSSI has awarded CSPN certification for use of our flagship product in this very demanding environment."
The ANSSI certification comes in addition to Waterfall's existing Common Criteria and NITES certifications, as well as security assessments by NISA, Idaho National Laboratories and Digital Bond Laboratories. These certifications and assessments all attest to the strength of Unidirectional Security Gateways – stronger than firewalls, with physical rather than software-based protection for the sensitive computers that control the powerful industrial processes essential to modern societies.
About Waterfall Security Solutions
Waterfall Security Solutions is the global leader in industrial cybersecurity technology. Waterfall products, based on its innovative Unidirectional Security Gateway technology, represent an evolutionary alternative to firewalls. The company's expanding array of customers includes national infrastructures, power plants, nuclear plants, off-shore oil and gas platforms, rail networks, refineries, manufacturing plants, utility companies, and many more. Deployed throughout North America, Europe, the Middle East and Asia, Waterfall products support the widest range of leading industrial remote monitoring platforms, applications, databases and protocols in the market. For more information, visit www.waterfall-security.com
For media inquiries:
Batya Castro
Waterfall Security Solutions
+972-50-877-1075
batya@waterfall-security.com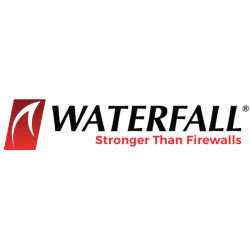 Latest posts by Waterfall Team
(see all)