Additional international recognition for Waterfall's unidirectional gateway technology in replacing firewalls to protect industrial control systems (ICS)
Rosh HaAyin Israel – May 1, 2017 – Waterfall Security Solutions, a global leader in cybersecurity technologies for critical infrastructures and industrial control systems, today announced that its latest Unidirectional Security Gateway, the WF-500 product line, has been awarded an EAL4+ (resistant to high attack potential) certification under a Common Criteria security evaluation. The National Institute of Standards and Technology (NIST) has developed Common Criteria to be the premier, internationally-recognized process for evaluating the trustworthiness of security products used in military, government, and civilian settings.
EAL4 certification is the highest internationally-recognized assurance level. The '+' in EAL4+ represents an additional level of testing for resistance to high-attack-potential. This elective level of certification means that even adversaries with significant time, knowledge, expertise and hardware/software resources at their disposal will find it extremely difficult to compromise the technology.
In parallel to the Common Criteria certification process, Waterfall's Unidirectional Security Gateway has passed a testing and certification process under the National IT Evaluation Scheme (NITES), a certification program of the Singapore Government. NITES regulates high standards for suppliers of products to governmental agencies in Singapore.
Lior Frenkel, Waterfall Security's CEO and Co-Founder, said, "These recent high-level security certifications of our latest line of products reinforce Waterfall Security customers' confidence in our technology. Waterfall's unidirectional security technology has been evaluated, assessed and certified by numerous agencies and labs worldwide, and has proven itself in the field with countless deployments across the globe."
Waterfall Security's technology provides a safe and secure way to connect industrial control networks to external networks, the Internet, and cloud services. Waterfall's Unidirectional Gateway creates an impassable, physical barrier eliminating the possibility of external online attacks, including network-propagating malware and remote-control attacks, while enabling business processes to proceed as usual.
The WF-500, Waterfall Security's latest product family, offers high throughput, high availability, and a modular architecture to fit all customers' needs. The gateways are available in a DIN Rail form factor, with the same robustness, features and demanding specifications. The WF-500 family includes the Waterfall FLIP®, the market's only unidirectional product that reverses orientation on a schedule, for planned updates of an industrial network.
About Waterfall Security Solutions
Waterfall Security Solutions is the global leader in industrial cybersecurity technology. Waterfall products, based on its innovative unidirectional security gateway technology, represent an evolutionary alternative to firewalls. The company's growing list of customers includes national infrastructures, power plants, nuclear plants, off and on shore oil and gas facilities, refineries, manufacturing plants, utility companies, and many more. Deployed throughout North America, Europe, the Middle East and Asia, Waterfall products support the widest range of leading industrial remote monitoring platforms, applications, databases and protocols in the market. For more information, visit www.waterfall-security.com
For inquiries:
Susan Becker
+972.508710777
susan@waterfall-security.com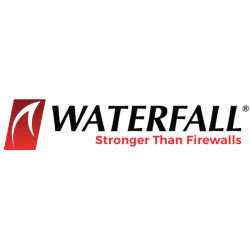 Latest posts by Waterfall Team
(see all)