London – March 27, 2017 – THB, CNA Hardy and leading cybersecurity specialist Waterfall Security Solutions have entered into a partnership to provide a new cyber security protection package for industrial businesses globally.
Traditional cybersecurity solutions, such as firewalls and intrusion detection solutions, are failing to provide sufficient protection for industrial control systems. In recent years manufacturing systems and industrial facilities have been impaired due to increased cyber-attacks, which have caused disruption to production, damaged equipment and compromised safety. Waterfall's proprietary Unidirectional Security Gateway system has proved highly effective in repelling attempted attacks on its clients. The system creates an impassable barrier around an industrial network, which allows normal operations to continue without interruption.
The package, distributed exclusively through THB, includes CNA Hardy's class-leading cyber technology and cyber insurance cover, which is offered at a 30% discount when used in conjunction with the Waterfall system.
Roddy Graham, head of THB's professional & financial risks division said: "We are excited to offer this comprehensive protection at such favorable terms. Working with Waterfall Security means we have long-term confidence about the security of our clients. Following a pilot phase and several months of introducing the concept to our clients, the feedback has been extremely positive."
Rhonda Buege, head of healthcare and technology at CNA Hardy, said: "We are delighted to be partnering with Waterfall and THB. Creating innovative, bespoke solutions for our customers is at the heart of what we do, offering more to our customers, building stronger, deeper relationships as we continue to build-out our proposition in new markets."
Lior Frenkel, CEO and co-founder, Waterfall Security said: "Seeing the global leading insurance players put their trust in the cyber security of Waterfall Security technology to this extent is very gratifying. This global precedent sends an exceptionally loud and strong message that Waterfall's solutions represent the best line of defense against online remote cyberattacks."
For more details, click here: http://www.thbgroup.com/Waterfall-THB-cyber-partnership
About THB
THB is a specialist international insurance and reinsurance broking and risk management group, with over 700 staff around the world.  Through its global platform of owned offices, network partners and local expertise, the firm has clients, markets and spheres of interest on every continent.  THB is part of AmWINS Group, Inc. – the largest wholesale broker in the United States – placing some $13bn premium annually. Visit www.thbgroup.com
About Waterfall Security Solutions
Waterfall Security Solutions is the global leader in industrial cybersecurity technology. Waterfall products, based on its innovative unidirectional security gateway technology, represent an evolutionary alternative to firewalls. The company's growing list of customers include national infrastructures,  power plants, nuclear plants, on/off-shore platforms, refineries, manufacturing plants, utility companies, plus many more. Deployed throughout North America, Europe, the Middle East and Asia, Waterfall products support the widest range of leading industrial remote monitoring platforms, applications, databases and protocols in the market. For more information, visit www.waterfall-security.com
For inquiries:  
THB
Julian Vereker
+44 (0)207 469 0100
JVereker@thbgroup.com
CNA Hardy
Georgina Peters-Venzano
Direct: +44 (0) 207 645 4968
Georgina.Peters-Venzano@cnahardy.com
Waterfall Security Solutions
Susan Becker
+972.508710777
susan@waterfall-security.com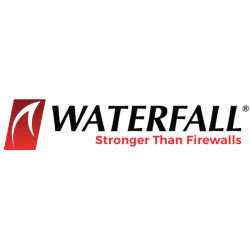 Latest posts by Waterfall Team
(see all)