In an unprecedented and massive collaboration, Waterfall's Unidirectional CloudConnect® demonstrates a secure design and implementation of interoperability for industrial and cloud systems
Hannover, Germany – April 19, 2017 – As the industrial world moves to embrace Internet connectivity and benefit from cloud platforms and big data analytics, cybersecurity experts continue to issue warnings of vulnerabilities and risks due to cyber attacks. Waterfall Security Solutions, a global leader in cybersecurity technologies for critical infrastructure and industrial control systems, has risen to the challenge with field-proven solutions that eliminate the possibility of remote cyber attacks originating from any IT-based or cloud connections entering industrial control systems.
Visitors at this year's Hannover Messe, the world's leading industrial event, can view a joint demonstration of secure remote monitoring made possible by a Waterfall-secured industrial control system (ICS) and organized under the guidance and support of the Industrial Internet Consortium® (IIC) and Plattform Industrie 4.0, also in collaboration with many vendors of industrial security information and event management (SIEM) systems, industrial equipment and IT systems.
Waterfall's Unidirectional CloudConnect®, based on several of the company's patented technologies, is the critical security player in this large-scale demonstration, gathering data from multiple vendors' equipment, and transmitting that data to various SIEM destinations. The CloudConnect creates an impassable barrier around an industrial network, allowing security event data to be shared with remote security operations and monitoring centers, eliminating hacking risks to the monitored networks.
"Contributing to the IIC's Industrial Internet Security Framework, a collaborative effort to provide safe IIoT solutions, led to this joint security concept which will be demonstrated at the event," said Lior Frenkel, CEO and Co-Founder of Waterfall Security. "With our Unidirectional CloudConnect, both industrial sites and SIEM providers can feel confident that there will be no security compromise from IT, cloud or Internet networks that put industrial equipment and networks at risk."
Once secured by Waterfall's technology, manufacturing sites are protected when connected to benefit from remote security monitoring, outsourced intrusion detection, cloud security analytics, and other remote security functions. In the joint demo, security events are shared across the ecosystem, letting each member in the value chain see all security events that are relevant for their needs.
"The need for secure remote monitoring of security events from industrial control systems is growing dramatically. Many vendors and customers are now moving forward with their planned deployment, once they were introduced to the Unidirectional CloudConnect solution," added Frenkel.
The joint demonstration at Hannover Messe reflects a real-world, multi-vendor, distributed environment, integrating systems from more than 20 IIC and Plattform Industrie 4.0 member companies into a synergic security ecosystem. The base of the demonstration can be found in Stands C24 and D24 of Hall 8 of the Hannover Messe. Live demonstrations of connected equipment can be found in other stands and halls throughout the event, in other parts of Germany and in other parts of the world.
If interested in scheduling a meeting with Waterfall during the event, click here.
About Waterfall Security Solutions
Waterfall Security Solutions is the global leader in industrial cybersecurity technology. Waterfall products, based on its innovative unidirectional security gateway technology, represent an evolutionary alternative to firewalls. The company's growing list of customers includes national infrastructures, power plants, nuclear plants, off and on shore oil and gas facilities, refineries, manufacturing plants, utility companies, and many more. Deployed throughout North America, Europe, the Middle East and Asia, Waterfall products support the widest range of leading industrial remote monitoring platforms, applications, databases and protocols in the market. For more information, visit www.waterfall-security.com
For inquiries:
Susan Becker
+972.508710777
susan@waterfall-security.com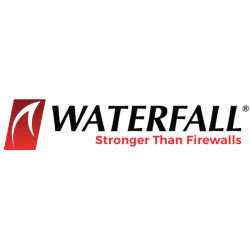 Latest posts by Waterfall Team
(see all)