Combined Waterfall and CyberX solution addresses all five core functions specified in NIST standard for critical infrastructure security
Rosh HaAyin, Israel and Framingham, MA – June 27, 2017 – Waterfall Security Solutions, a global leader in cybersecurity technologies for critical infrastructures and industrial control systems, today announced the launch of a technology partnership program featuring CyberX as its launch partner. The program's aim is to build a thriving cybersecurity eco-system for industrial control system (ICS) environments, comprised of field-proven providers who have completed Waterfall's rigorous certification process, enabling customers to aggressively and confidently pursue a multi-layered cyber-defense strategy.
"As cyberattackers get more sophisticated and malware continues to propagate across industrial environments worldwide, enterprises need comprehensive controls at each layer of the ICS stack," said Omer Schneider, CyberX CEO and Co-Founder. "Waterfall's patented unidirectional security gateway technology is the de facto standard in its category and an ideal complement to our continuous threat monitoring platform.  We're pleased to be integrating our solutions to further reduce complexity and risk for our joint customers worldwide, and to enhance their operational resilience."
"This global partnership is the first to provide the industrial sector with a multi-layered cybersecurity solution," said Lior Frenkel, CEO and Co-Founder of Waterfall Security Solutions. "We are delighted to launch our partner program with CyberX, one of the industry's most experienced ICS security providers. By delivering an integrated solution, we lay a strong foundation for defense-in-depth across our shared vertical markets including energy, manufacturing, chemicals, pharmaceuticals, transportation and the Industrial IoT."
Waterfall's unidirectional security gateway technology provides a safe and secure way to connect industrial control networks to external networks, the Internet and cloud services. Waterfall's Unidirectional Gateway creates an impassable, physical barrier eliminating the possibility of external online attacks, including network-propagating malware and remote-control attacks, while enabling business processes to proceed as usual.
CyberX offers the most widely-deployed industrial cybersecurity platform for continuous, non-invasive threat monitoring, asset discovery and risk assessment. The CyberX platform combines a deep understanding of industrial protocols with M2M-specific behavioral analytics and proprietary ICS threat intelligence, enabling industrial organizations to detect and respond faster to targeted attacks, ransomware and insider threats.
The combined Waterfall-CyberX solution allows CyberX's real-time situational awareness information to be securely transmitted through the Waterfall Unidirectional Security Gateway to SIEMs in the corporate security operation center (SOC) and other systems on the corporate network, without putting the Operational Technology (OT) network at risk.
Together, Waterfall Security and CyberX address major aspects of all five core functions specified in the NIST Framework for Improving Critical Infrastructure Cybersecurity, which include Identify, Protect, Detect, Respond and Recover. These five functions align an organization's cybersecurity activities with industry standards and best practices for identifying, assessing and managing cybersecurity risk.  
About CyberX
CyberX provides the most widely-deployed cybersecurity platform for continuously reducing risk to critical industrial infrastructures. Recognized as a "Cool Vendor" by Gartner and backed by military-grade cyber experts from the IDF, CyberX enables organizations to prevent costly production outages, catastrophic safety failures, and theft of corporate IP. The company is the only industrial cybersecurity vendor selected for the SINET16 Innovator Award sponsored by the US DHS and DoD, and the only ICS security vendor recognized by the International Society of Automation (ISA). An active member of the Industrial Internet Consortium (IIC) and the ICS-ISAC, CyberX's groundbreaking ICS threat intelligence research was recently featured in the popular McGraw-Hill book series, "ICS Hacking Exposed." For more information, visit www.cyberx-labs.com.
About Waterfall Security Solutions
Waterfall Security Solutions is the global leader in industrial cybersecurity technology. Waterfall products, based on its innovative unidirectional security gateway technology, represent an evolutionary alternative to firewalls. The company's growing list of customers includes national infrastructures, power plants, nuclear plants, off and on shore oil and gas facilities, refineries, manufacturing plants, utility companies, and many more. Deployed throughout North America, Europe, the Middle East and Asia, Waterfall products support the widest range of leading industrial remote monitoring platforms, applications, databases and protocols in the market. For more information, visit www.waterfall-security.com
For inquiries:
Waterfall Security Solutions
Susan Becker
+972.508710777
susan@waterfall-security.com
CyberX
Elizabeth Safran
Looking Glass Public Relations
+1-408-348-1214
e.liz@lookingglasspr.com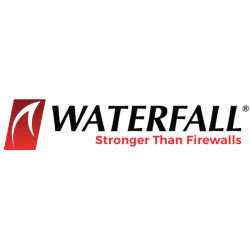 Latest posts by Waterfall Team
(see all)