Rosh Ha'Ayin, Israel – January 29, 2018 – Waterfall Security Solutions, a global leader in cybersecurity technologies for critical infrastructure and industrial control systems, today announced an official partnership together with HCNC Co., Ltd., a leading systems integrator based in Korea, to further extend Waterfall's and HCNC's OSIsoft® product offering within the region.
HCNC specializes in integrating OSIsoft® PI solutions throughout a wide spectrum of industries including power, oil and gas, utilities and transportation. HCNC's combination of strong, local support coupled with extensive knowledge of and services for the OSIsoft® PI System suite make HCNC the perfect complement to the Waterfall Security product offering.
"We are proud to be joining forces with HCNC" said Lior Frenkel, CEO and Co-Founder of Waterfall Security Solutions, "this new partnership will lead to dramatically improved security for OSIsoft® PI deployments in Korea."
"We are delighted to be partnering with Waterfall Security – a global leader in industrial cybersecurity and leading OSIsoft® PI trusted partner" said HCNC General Manager Dae Gyu Choi.
Having already established joint mutual projects in Korea, the Waterfall and HCNC partnership will lead to dramatically improved security for OSIsoft® PI deployments in the country.
Waterfall Unidirectional Security Gateways replace firewalls in industrial network environments, providing absolute protection to industrial control system and operations networks from attacks originating on external networks. Upon deploying Unidirectional Gateways, critical infrastructure and industrial sites enjoy safe and reliable IT/OT integration, vendor and cloud services access, and remote monitoring.
About Waterfall Security Solutions
Waterfall Security Solutions is the global leader in industrial cybersecurity technology. Waterfall products, based on its innovative unidirectional security gateway technology, represent an evolutionary alternative to firewalls. The company's growing list of customers includes national infrastructures, power plants, nuclear plants, off and on shore oil and gas facilities, refineries, manufacturing plants, utility companies, and many more. Deployed throughout North America, Europe, the Middle East and Asia, Waterfall products support the widest range of leading industrial remote monitoring platforms, applications, databases and protocols in the market. For more information, visit www.waterfall-security.com
About HCNC
HCNC is the leading company of Industry 4.0 based solutions for smart factory systems such as PLC/HMI, RTDB, Industrial Big Data Analysis, MES service, and is an official partner of OSIsoft® PI.
A considerable part of Industry 4.0 network system security is focused on safe IT/OT integration. For this type of network integration, a robust industrial cybersecurity solution is essential. The joint solution provided by HCNC and Waterfall offers a new level of security through the implementation of marketing leading unidirectional security gateway technology.
For media inquiries:
Waterfall Security Solutions
Vicki Michaeli
vicki@waterfall-security.com
+972-54-641-1034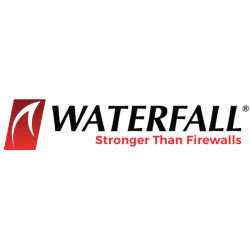 Latest posts by Waterfall Team
(see all)