Waterfall's Unidirectional CloudConnect® provides secure and easy integration of industrial networks with FireEye's Threat Analytics Cloud Platform
Rosh HaAyin, Israel – July 20, 2017 – Waterfall Security Solutions, a global leader in cybersecurity technologies for critical infrastructure and industrial control systems, today announced a global partnership with FireEye Inc., the intelligence-led security company, to integrate the FireEye cloud-based Threat Analytics Platform (TAP) with industrial networks using Waterfall's Unidirectional CloudConnect. This joint solution enables FireEye customers to monitor and protect their ICS networks using the market-leading, cloud-based Helix service, while eliminating the threat of remote cyberattacks entering the monitored ICS environment. Industrial businesses who previously refrained from using any cloud or IIoT services due to security concerns, can now remain confident that their ICS networks are safe from external cyber risks.
"This new partnership is an important step towards improved security for industrial sites," said Lior Frenkel, CEO and Co-Founder of Waterfall Security Solutions. "An increasingly complex industrial threat landscape demands increasingly sophisticated security solutions. Enabling rapid deployment of the market-leading FireEye Helix platform into industrial control networks is an important development in response to modern threats. We are proud to be able to partner with FireEye, and to share our cutting-edge technologies into an integrated innovative joint solution."
"FireEye is pleased to add Waterfall Security, a global leader for cybersecurity for industrial networks, to its Strategic Partner program. We feel that combining FireEye's current ICS offerings and services with Waterfall's Unidirectional CloudConnect will provide our clients with a comprehensive solution for their overall IT security requirements. With this additional capability, we are able to seamlessly connect customers' industrial control systems and FireEye as a Service (FaaS) or TAP installations," says Rich Stegina, Vice President at FireEye. "FireEye, working with Waterfall Security, will be able to increase its scope of security functionality to better serve the needs of industrial customers."
The Unidirectional CloudConnect product is based on Waterfall's patented unidirectional gateway technology, which physically prevents cyberattacks from entering into an industrial network. Waterfall Security technology is recognized by, and is essential to many industrial control system standards and regulations, including NERC CIP, ANSSI, NEI, NRC, and IEC standards.
About Waterfall Security Solutions
Waterfall Security Solutions is the global leader in industrial cybersecurity technology. Waterfall products, based on its innovative unidirectional security gateway technology, represent an evolutionary alternative to firewalls. The company's growing list of customers includes national infrastructures, power plants, nuclear plants, off and on shore oil and gas facilities, refineries, manufacturing plants, utility companies, and many more. Deployed throughout North America, Europe, the Middle East and Asia, Waterfall products support the widest range of leading industrial remote monitoring platforms, applications, databases and protocols in the market. For more information, visit www.waterfall-security.com
For inquiries:
Susan Becker
Waterfall Security Solutions
+972.508710777
susan@waterfall-security.com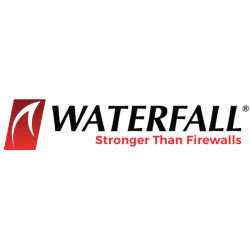 Latest posts by Waterfall Team
(see all)