Provides a compact form factor for electric, oil & gas, manufacturing and other industrial environments  
Rosh HaAyin, Israel – May 10, 2017 – Waterfall Security Solutions, a global leader in cybersecurity technologies for critical infrastructure and industrial control systems, today announced the launch of its Unidirectional Security Gateway DIN Rail product. The new DIN Rail version of Waterfall's market-leading Unidirectional Security Gateway offers the same high throughput, connectivity and functionality as its full-body, rack-mounted version. The DIN Rail Unidirectional Gateway maintains the highest level of cybersecurity available for protecting industrial control systems and critical infrastructure facilities from remote online attacks. The availability of a smaller form factor enables electrical, oil and gas, manufacturing and other industries to easily deploy the gold standard of cyber protection for space-constrained sites. In addition, industrial enterprises connecting to cloud platforms or employing many small sites will benefit from using Waterfall's Unidirectional CloudConnect® in this compact form factor.
Some highlighted features of the Waterfall DIN Rail are:
Same cybersecurity as the market-leading Waterfall Unidirectional Security Gateway
Compact, vertical DIN Rail mounted form factor
The same 1Gbps throughput and extensive software connectivity as Waterfall's rack-mounted Unidirectional Security Gateways
Designed and certified for demanding environmental conditions
"We're pleased to launch the Waterfall DIN Rail product, offering our customers this smaller form factor without compromise on throughput or functionality," said Lior Frenkel, CEO and Co-founder at Waterfall Security Solutions. "Our rapidly-expanding customer base, in many market segments, can now deploy our unidirectional technology in environmentally-challenged locations with limited space and DIN Rail mounting infrastructure."
Waterfall Security's patented Unidirectional Security Gateway technology and product suite, including the Unidirectional CloudConnect for protection of control networks when connecting to the cloud, represent an evolutionary alternative to firewalls, protecting the safety and reliability of industrial systems in ways that firewalls simply cannot match. The Waterfall DIN Rail is designed to replace firewalls at network perimeters in electrical generation, transmission and distribution plants, in addition to other utilities, manufacturing, and transportation control systems that require DIN Rail mounting.
"With the sharp rise in the frequency of cyber attacks, extortion and commercial espionage on all industrial control systems, the new DIN Rail solution enables our customers to deploy our unidirectional gateway technologies in any of their networks and locations. At Waterfall, we are seeing a considerable uptake in the adoption our technology, due in part to increased agreement among cybersecurity experts and regulatory bodies that unidirectional gateway technology, and not firewalls, is the optimal solution for ICS perimeter cybersecurity," added Frenkel.
About Waterfall Security Solutions
Waterfall Security Solutions is the global leader in industrial cybersecurity technology. Waterfall products, based on its innovative unidirectional security gateway technology, represent an evolutionary alternative to firewalls. The company's growing list of customers includes national infrastructures, power plants, nuclear plants, off and on shore oil and gas facilities, refineries, manufacturing plants, utility companies, and many more. Deployed throughout North America, Europe, the Middle East and Asia, Waterfall products support the widest range of leading industrial remote monitoring platforms, applications, databases and protocols in the market. For more information, visit www.waterfall-security.com
For inquiries:
Susan Becker
+972.508710777
susan@waterfall-security.com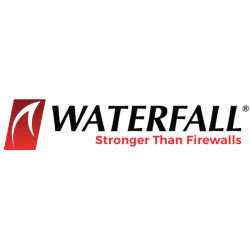 Latest posts by Waterfall Team
(see all)