Unidirectional CloudConnect®, the leading Industrial IOT gateway, now supports Microsoft Azure, GE Predix, in addition to other industrial cloud providers
Rosh HaAyin, Israel – June 14, 2017 – Waterfall Security Solutions, a global leader in cybersecurity technologies for critical infrastructure and industrial control systems, today announced the support of its market-leading, cloud gateway, the Unidirectional CloudConnect, for Microsoft Azure's Internet of Things Cloud platform. This support enables industrial businesses to connect to the cloud, while keeping their industrial control systems (ICS) safe from remote cyberattacks.
In addition to securing the ICS site, Waterfall's Unidirectional CloudConnect gateway enables the rapid adoption of Azure-based Industrial Internet of Things (IIoT) cloud applications by overcoming basic interoperability challenges facing all IIoT deployments. Specifically, the Unidirectional CloudConnect enables Microsoft Azure developers to gather data securely from a variety of SCADA protocols and systems, and translates this data for use in Azure applications.
"Industrial companies see enormous benefits in cloud-based IIoT programs that enable broader use of predictive analytics and information sharing with vendors. Cybersecurity is the key issue constraining adoption of these programs," commented Sid Snitkin, VP & GM Enterprise Advisory Services of ARC Advisory Group. "The extension of Waterfall's Unidirectional CloudConnect to the Microsoft Azure IoT platform provides a much needed, positive solution to a key concern – ensuring that data transfers to the cloud don't open plant perimeters to the cyber wild west of the Internet."
"Our customers can now deploy Azure-based IIoT solutions and connect to Azure cloud services without posing risks to their industrial systems," said Lior Frenkel, CEO and Co-Founder of Waterfall Security Solutions. "Despite the dramatically expanded attack surface that cloud systems create, our Unidirectional CloudConnect reliably delivers protection from external online attacks, while continuously populating the Microsoft Azure cloud with real-time data from control systems and devices."
The Unidirectional CloudConnect product is based on Waterfall's patented unidirectional gateway technology, which physically prevents cyberattacks from any external network from entering an industrial network.
"As confirmed by many industry experts, the Unidirectional CloudConnect resolves vital cybersecurity and interoperability challenges in the IIoT ecosystem," added Frenkel.
About Waterfall Security Solutions
Waterfall Security Solutions is the global leader in industrial cybersecurity technology. Waterfall products, based on its innovative unidirectional security gateway technology, represent an evolutionary alternative to firewalls. The company's growing list of customers includes national infrastructures, power plants, nuclear plants, off and on shore oil and gas facilities, refineries, manufacturing plants, utility companies, and many more. Deployed throughout North America, Europe, the Middle East and Asia, Waterfall products support the widest range of leading industrial remote monitoring platforms, applications, databases and protocols in the market. For more information, visit www.waterfall-security.com
For inquiries:
Susan Becker
+972.508710777
susan@waterfall-security.com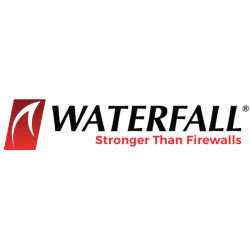 Latest posts by Waterfall Team
(see all)