NEW YORK – 1st September, 2015 – Waterfall Security Solutions (Waterfall Security) which specializes in protection and security for critical infrastructure and industrial control systems, today announced the launch of a new test facility at Toshiba development center in Japan.
Waterfall worked together with Toshiba to set up a new test facility at Toshiba's development center. The facility features a wide-array of Waterfall's Unidirectional Security Gateways, integrated with a range of different applications including Oracle, OSIsoft PI, File systems and several SCADA systems. The test facility is designed to reflect the needs of the utilities sector within Japan.
Industrial ICT Solutions Company, part of Toshiba Corporation is working together with Waterfall with a common vision of ensuring that secure and reliable solutions are being deployed at customer sites. Having a test facility, Toshiba can simulate the customer environment prior to the deployment, and ensure that optimum performance and compatibility is achieved with the customer's system.
"We are proud to be working together with Toshiba on this initiative," says Lior Frenkel, CEO and co-founder, Waterfall Security Solutions. "Having a test facility within this region is a great advantage for Waterfall Security and will help us to work more efficiently and enhance our offering to our Japanese customers."
Waterfall Security resource station:
Articles, white papers and webinars: http://www.waterfall-security.ca/resources/
Blog: http://waterfall-security.blogspot.com/
Twitter: https://twitter.com/WaterfallSecure
Facebook: https://www.facebook.com/pages/Waterfall-Security-Solutions/454902081249354
LinkedIn: http://www.linkedin.com/company/waterfall-security-solutions-ltd
About Toshiba Corporation Industrial ICT Solutions Company Industrial ICT Solutions Company is a division within Toshiba Corporation, which provides cloud services and ICT solutions based on Toshiba group's wide business know-how and technologies. The industries that Industrial ICT Solutions Company serves are within the business sector including power systems and industrial and social infrastructure systems. For further information, visit Toshiba World Wide web site: http://www.toshiba.co.jp/worldwide/ Toshiba dedicated product site on Waterfall Unidirectional Security Gateways (in Japanese) http://www.toshiba.co.jp/cl/pfsol/gateway/
About Waterfall Security Waterfall Security Solutions is the global leader in industrial cybersecurity technology. Waterfall Security's hardware-enforced cyber security products are focused on preventing cybersabotage of industrial control system and networks. Waterfall Security's products represent an evolutionary alternative to firewalls, and are used by industrial, manufacturing, and critical infrastructure customers worldwide. Waterfall's technologies reduce the cost and complexity of compliance with NERC CIP, NRC, NIST, CFATS, ANSSI and other regulations. Waterfall's products include support for leading industrial applications, including the OSIsoft PI™ Historian, Schneider Electric's ClearSCADA, AspenTech IP.21, the GE Proficy™ iHistorian, Siemens SIMATIC™/Spectrum™ solutions, GE OSM™ remote monitoring platforms, as well as OPC, Modbus, DNP3, ICCP and other industrial protocols.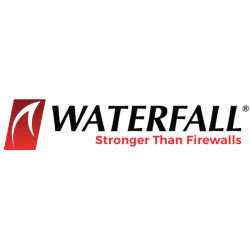 Latest posts by Waterfall Team
(see all)