The recommended cyber security solution for industrial sites is now available for an even wider range of vertical markets, supporting a greater number of industrial applications
 Rosh HaAyin, Israel – August 1, 2016 – Waterfall Security Solutions, a global leader in cybersecurity technologies for critical infrastructure and industrial control systems, today announced the expansion of its stronger-than-firewall solution portfolio for industrial control systems and critical infrastructure sites.
Waterfall Security's Unidirectional Security Gateway product family is an evolutionary alternative to firewalls, providing protection for the safety and reliability of industrial systems that firewalls simply cannot. Industrial sites around the world deploy Waterfall products to provide industrial systems with safe and reliable IT/OT integration, access to vendor and cloud services, and remote monitoring.
"Our wide-ranging industrial connector portfolio is an essential component to the value we give our customers throughout many diverse industrial markets. It affords them with seamless integration of our Unidirectional Gateway products into their existing industrial network architectures for the best protection available from cyberattacks originating from external networks," said Lior Frenkel, CEO and co-founder, Waterfall Security Solutions.
The latest connectors to be added to Waterfall's portfolio are:
Advanced Message Queuing Protocol (AMQP): Integrates industrial systems with additional cloud and IT services
Siemens PCS7: Provides safe remote access to PCS7 databases and other components
HttpFS: Expands connectivity for Waterfall's already extensive set of file server replication capabilities
GE Proficy HMI: Replicates HMI servers, definitions and other components for external monitoring
Log Channel: Provides efficient transfers of log information to corporate Security Information and Event Managers (SIEMs),
Wonderware Historian Backfill: Expands the capabilities of our current Wonderware Historian connector
Webservices: Makes industrial web services available to IT networks and to the Internet without risk to industrial systems.
Unidirectional Gateways represent a technology pioneered by Waterfall Security Solutions and deployed worldwide since 2007. Waterfall's Unidirectional Gateway family of products are recognized to reduce the cost and complexity of compliance with NERC CIP, NRC, NIST, CFATS, ANSSI, ISA, and other standards, regulations and best practices.  The United States Department of Homeland Security (DHS) December 2015 report, "Seven Strategies to Defend Industrial Control Systems," recommends unidirectional communications in three of its seven strategies to protect industrial control systems (ICS) from cyberattacks.
"These additions to our already-extensive connector family will enable even more industrial sites to enjoy the peace-of-mind that comes from deploying our world-leading cyber security technology. The world will be a safer place with more Unidirectional Gateways deployed," remarked Frenkel.
About Waterfall Security Solutions
Waterfall Security Solutions is the global leader in industrial cybersecurity solutions employing hardware-enforced unidirectional communications technology. Focused on protecting industrial control systems and critical infrastructure from cyberattacks originating from external networks, Waterfall products represent an evolutionary alternative to firewalls. Waterfall has a growing list of customers worldwide, including national infrastructures throughout North America, Europe, Asia and the Middle-East in power plants, nuclear plants, on/off-shore platforms, refineries, manufacturing plants, utility companies plus many more. For more information, visit https://waterfall-security.com.
For inquiries:
Susan Becker
+972.508710777
susan@waterfall-security.com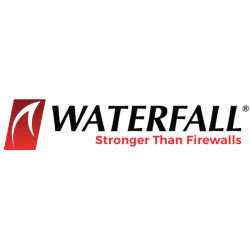 Latest posts by Waterfall Team
(see all)