"Israel's critical infrastructure sites are among the most thoroughly protected in the world"
Rosh HaAyin, Israel – June 4, 2018 – Waterfall Security Solutions today announces that Lior Frenkel, Waterfall's CEO and Co-Founder, will join representatives of Israel's Department of Energy and National Cyber Directorate on a panel at the U.S. Department of Energy Cyber Conference on Tuesday June 5 in Austin, Texas. The panel will focus on public/private sector cooperation for advanced cybersecurity throughout Israel's critical energy infrastructure. Mr. Frenkel and the other panelists join distinguished speakers at the DOE conference including the U.S. Secretary of Energy Mr. Rick Perry, the CIO of the Atomic Weapons Establishment Mr. Tony Mather, and CI/SOs of the U.S. Argonne, Pacific Northwest and Oakridge National Laboratories.
"Israel's energy infrastructure sites are among the most thoroughly protected industrial sites in the world" says Mr. Frenkel. "The Israeli experience proves that thoroughly-secured civilian industrial control systems are not only possible, but practical. We are pleased to have this opportunity to share with our American partners Waterfall's and Israel's experience in securing critical infrastructures in response to an increasingly concerning global cyber threat environment.
Mr. Frenkel's participation in the DOE Cybercon is part of a systematic program at Waterfall Security to participate in and support the most important industrial cybersecurity networking, educational and information-exchange events, world-wide.
The DOE Cyber Conference brings together representatives from federal agencies, National Laboratories and Power Marketing Administrations, as well as personnel from universities, power plants and other infrastructure sites from throughout the energy sector. The conference is focused on highlighting the latest cybersecurity developments to advance cybersecurity protections in support of the department's energy, national security, scientific and nuclear mandates.
About Waterfall Security Solutions
Waterfall Security Solutions is the global leader in industrial cybersecurity technology. Waterfall products, based on its innovative Unidirectional Security Gateway technology, represent an evolutionary alternative to firewalls. The company's growing list of customers includes national infrastructures, power plants, nuclear plants, off-shore oil and gas platforms, refineries, manufacturing plants, utility companies, and many more. Deployed throughout North America, Europe, the Middle East and Asia, Waterfall products support the widest range of leading industrial remote monitoring platforms, applications, databases and protocols in the market. For more information, visit www.waterfall-security.com
For media inquiries:
Vicki Michaelli
Waterfall Security Solutions
+972-54-641-1034
vicki@waterfall-security.com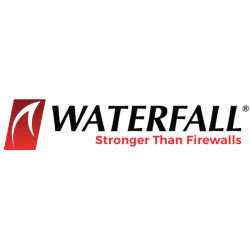 Latest posts by Waterfall Team
(see all)