Solving major challenges of IIoT implementation: Cybersecurity and Interoperability
Rosh HaAyin, Israel – October 18, 2016 – Waterfall Security Solutions, a global leader in cybersecurity technologies for critical infrastructure and industrial control systems, today announced the launch of its Unidirectional CloudConnect™,an innovative solution based on Waterfall's patented Unidirectional Gateway technology. It is designed to meet the challenges of both cybersecurity and interoperability, thereby enabling the widespread adoption of the IIoT. A recent survey conducted by IOT Nexus revealed that more than 80% of the current roadblocks to the IIoT adoption relate to cybersecurity and interoperability concerns.
"The Industrial Internet of Things (IIoT) is clearly a hot topic today. Owners and operators recognize the potential benefits of more operational information and advanced, data-driven asset management strategies," said Sid Snitkin, VP and GM of the Enterprise Advisory Service at ARC Advisory Group. "Cloud-based analysis and data sharing enable many of these IIoT benefits, but cybersecurity concerns are inhibiting more rapid IIoT adoption. We applaud efforts like Waterfall's Unidirectional CloudConnect to overcome these concerns and protect industrial sites from the cloud."
"Waterfall's Unidirectional CloudConnect is an essential enabler for the Industrial Internet of Things. CloudConnect secures industrial sites from cyberattacks from the cloud and the Internet, while delivering seamless interoperability of the industrial systems with cloud applications," said Lior Frenkel, CEO and Co-founder at Waterfall Security Solutions. "As a secure gateway to the cloud, combining Waterfall's renowned cybersecurity with innovative protocol interoperability and unification, CloudConnect enables industrial sites to reap the efficiencies of the IIoT."
Use cases for the Unidirectional CloudConnect include:
Direct connection to Internet cloud services by industrial sites leveraging the efficiencies of predictive maintenance, big data analytics, and other business-transforming benefits.
Connection to the cloud via IIoT vendors offering big data analytics and operational efficiencies to industrial sites.
Unidirectional CloudConnect uses Unidirectional Gateways to gather data from industrial sources such as historians, industrial systems and devices. It seamlessly recodes gathered information into cloud-friendly unified formats, including relational databases, publish/subscribe protocols, and XML/SOAP web services. CloudConnect then transmits the cloud-friendly data to Internet-based industrial cloud providers.
"We are already experiencing interest from both industrial customers and vendors, due to our success in providing stronger-than-firewall cybersecurity," remarked Frenkel. "From airports with sensors gathering data, to big data analytics vendors working with oil & gas companies, our Unidirectional CloudConnect has received a warm welcome by the industrial community."
Unidirectional Gateways were pioneered by Waterfall Security and deployed worldwide since 2007. Waterfall's Unidirectional Security Gateway product family is an evolutionary alternative to firewalls, providing protection for the safety and reliability of industrial systems that firewalls simply cannot match.
Industrial sites around the world deploy Waterfall products to provide industrial systems with safe and reliable IT/OT integration, vendor and cloud services, and remote monitoring. The products are recognized to reduce the cost and complexity of compliance with NERC CIP, NRC, NIST, CFATS, ANSSI, ISA, and other standards, regulations and best practices, worldwide.
Waterfall Security Solutions is exhibiting at IOT World Congress as part of the Industrial Internet Consortium (IIC) pavilion. Click here to schedule a meeting.
About Waterfall Security Solutions
Waterfall Security Solutions is the global leader in industrial cybersecurity solutions employing hardware-enforced unidirectional communications technology. Focused on protecting industrial control systems and critical infrastructure from cyberattacks originating from external networks, Waterfall products represent an evolutionary alternative to firewalls. The company's growing list of customers include national infrastructures and control systems in power plants, nuclear plants, on/off-shore platforms, refineries, manufacturing plants, utility companies plus many more. Deployed throughout North America, Europe, the Middle East and Asia, Waterfall products support the widest range of leading industrial remote monitoring platforms, applications, databases and protocols. For more information, visit https://waterfall-security.com.
For inquiries:
Susan Becker
+972.508710777
susan@waterfall-security.com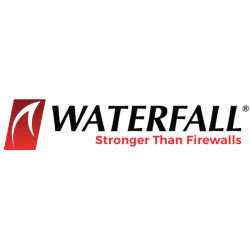 Latest posts by Waterfall Team
(see all)