Restoring trust in network information for cyber-attack response teams and forensics
Rosh HaAyin, Israel – November 14, 2016 – Waterfall Security Solutions, a global leader in cybersecurity technologies for critical infrastructure and industrial control systems, today announced the launch of the Waterfall BlackBox™, developed to maintain the integrity of log repositories in the event of a cyber attack. Based on Waterfall's patented unidirectional technology, the Waterfall BlackBox creates a physical barrier between networks and logged data, so that stored logs become inaccessible to attackers who are trying to cover their tracks.
"We have been deploying our Unidirectional Security Gateway products in industrial networks worldwide for the past decade, while gaining unparalleled insight into real-life cyber attacks and protections as a result. As the market leaders for strong security, we have developed a number of innovative solutions, the Waterfall BlackBox being the most recent," said Lior Frenkel, CEO and Co-founder at Waterfall Security Solutions. "Until now, response teams and forensic experts could not be sure if an attacker had tampered with or manipulated network and security logs in order to distort the results of incident-response efforts and audits."
Network, application and security logs are vital to forensic activity, incident response, audits and risk analyses. These logs record evidence of attacks and details of attacker activities on compromised networks. In modern attacks, once inside a network, attackers take deliberate measures to "cover their tracks" by removing or altering incriminating or revealing information in log repositories. Covering tracks is typical of attacks on networks with local, centralized and even cloud-based logging systems. Logs and log repositories accessible from the attacked network are always suspect of being manipulated The Waterfall BlackBox secures logs "behind" a unidirectional gateway, ensuring that logs are physically kept trustworthy and out-of-reach of cyber attackers.
"The Waterfall BlackBox is a totally new solution in the market, enabling us to provide unmatched security solutions to customers in financial, enterprise and healthcare markets, in addition to our existing industrial control networks users," added Frenkel.
Unidirectional Gateway products were pioneered and patented by Waterfall Security, and have been deployed worldwide since 2007. The hardware-enforced Unidirectional Security Gateway product family is a revolutionary alternative to firewalls, protecting the safety and reliability of industrial systems in ways that firewalls simply cannot match.
Waterfall Security Solutions is exhibiting at Israel HLS & Cyber International Conference this week in Tel Aviv. Click here to schedule a meeting.
About Waterfall Security Solutions
Waterfall Security Solutions is the global leader in industrial cybersecurity technology. Waterfall products, based on its innovative unidirectional security gateway technology, represent a revolutionary alternative to firewalls. The company's growing list of customers includes national infrastructures and control systems in power plants, nuclear plants, on/off-shore platforms, refineries, manufacturing plants, utility companies plus many more. Deployed throughout North America, Europe the Middle East and Asia, Waterfall products support the widest range of leading industrial remote monitoring platforms, applications, databases and protocols in the market.
For more information, visit https://waterfall-security.com.
For inquiries:
Susan Becker
+972.508710777
susan@waterfall-security.com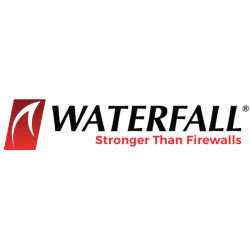 Latest posts by Waterfall Team
(see all)