NEW YORK – February 10th, 2015 – Today, Waterfall Security Solutions (Waterfall Security) announced that it has been selected to be in the Deloitte Technology Fast 500 EMEA 2014, a ranking of the 500 fastest growing technology companies in EMEA. Rankings are based on percentage revenue growth over five years.

"Securing a position in the Deloitte Technology Fast 500 is an impressive feat, especially in the highly competitive and rapidly changing environment of the technology industry," said David Halstead, Deloitte UK and partner in charge of the Deloitte Technology Fast 500 EMEA program. "We congratulate Waterfall on being among the most dynamic and successful technology companies in the region."

As security threats of all types continue to increase, critical infrastructure sites are recognizing the need to evolve and embrace new industry best practices to protect themselves. "Our inclusion on the Deloitte Technology Fast 500 list is a testament to our growth and expansion across regions and industries. It also speaks to a shift in the critical infrastructure industry, which is seeking stronger-than-firewall technology solutions in the form of Unidirectional Security Gateways to improve the safety and reliability of critical control system networks." said Lior Frenkel, CEO and co-founder of Waterfall.

In addition to ranking in the Deloitte Technology Fast 500, Waterfall ranked No. 20 in the Israel Deloitte Technology Fast 50, which is a ranking of the 50 fastest growing technology firms in Israel.

The Deloitte Technology Fast 500 EMEA program is the region's most objective industry-ranking to focus on the technology field, recognizing technology companies that have achieved the fastest rates of revenue growth in Europe, the Middle East, and Africa (EMEA) during the past five years. Combining technological innovation, entrepreneurship and rapid growth, Fast 500 companies – large, small, public and private – span a variety of industry sectors, and are leaders in hardware, software, telecom, semiconductors, internet, media, life sciences and emerging areas, such as clean technology.

Waterfall Security resource station:

About Waterfall Security Solutions

Waterfall Security Solutions Ltd. is the leading provider of stronger-than-firewalls solutions for industrial control networks and critical infrastructures. The company's products are deployed in utilities and critical national infrastructures throughout North America, Europe, Asia and Israel. Waterfall's technologies reduce the cost and complexity of compliance with NERC-CIP, NRC, NIST, CFATS and other regulations, and include support for leading industrial applications, including the OSIsoft PI™ Historian, the GE Proficy™ iHistorian, Siemens SIMATIC™/Spectrum™ solutions and GE OSM™ remote monitoring platforms, as well as OPC, Modbus, DNP3, ICCP and other industrial protocols. Frost & Sullivan describes Waterfall's solutions as ensuring "optimum security for networks across user verticals," and awarded Waterfall the 2012 Network Security Award for Industrial Control Systems Entrepreneurial Company of the Year, the 2013 North America Award for Customer Value Enhancement and the 2014 Global Award for New Product Innovation Leadership.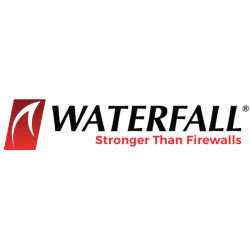 Latest posts by Waterfall Team
(see all)