Waterfall appoints cyber threat expert to join their mission to protect critical infrastructure around the world
Rosh HaAyin, Israel – March 10, 2019 – Waterfall Security Solutions, a global leader in cybersecurity technologies for critical infrastructure and industrial control systems, today announced that cyber threat expert Major General Ami Shafran, retired, is joining Waterfall's board of directors. Mr. Shafran is the head of the Center for Cyber Technologies at Ariel University in Israel and is a former commander of the Israeli Defense Forces Information, Communications and Cyber Command.
"We welcome Mr. Shafran to Waterfall's board," said Lior Frenkel, CEO and Co-Founder of Waterfall Security Solutions. "Waterfall's technology has become essential to the security of industrial sites and critical infrastructures across the globe. Mr. Shafran's unique combination of deep experience addressing nation-state, terrorist and other cyber threats is an invaluable addition to Waterfall Security and is in line with the company's expansion strategy."
"I am pleased to join Waterfall's board at a time when Waterfall is rapidly growing and evolving," adds Ami Shafran. "Today's cyber threats are very serious – more serious than most critical infrastructures and even many governments are anticipating. I believe that Waterfall's technologies are essential to protecting physical industrial installations from all types of cyber threats."
Waterfall's patented Unidirectional Gateways physically prevent cyberattacks from any external network from entering industrial networks. Waterfall's solutions are recognized by and are essential to many industrial control system standards and regulations, including NERC CIP, ANSSI, NEI, NRC, and IEC standards.
About Waterfall Security Solutions
Waterfall Security Solutions is the global leader in industrial cybersecurity technology. Waterfall products, based on its innovative unidirectional security gateway technology, represent an evolutionary alternative to firewalls. The company's growing list of customers includes national infrastructures, power plants, nuclear plants, off and on shore oil and gas facilities, refineries, manufacturing plants, utility companies, and many more. Deployed throughout North America, Europe, the Middle East and Asia, Waterfall products support the widest range of leading industrial remote monitoring platforms, applications, databases and protocols in the market. For more information, visit www.waterfall-security.com
For media inquiries please contact:
Vicki Michaeli
Waterfall Security Solutions
+972-50-871-0777
vicki@waterfall-security.com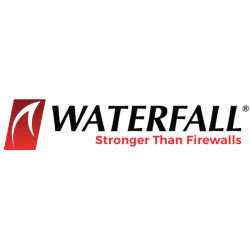 Latest posts by Waterfall Team
(see all)