New certification augments existing suite of certifications
Rosh HaAyin, Israel – June 09, 2020 – Waterfall Security Solutions, the OT security company, today announced that its corporate information security system has achieved ISO/IEC 27001:2013 certification. ISO/IEC 27001:2013 is one of the world's most widely recognized International Standards for information security management systems (ISMS).
Waterfall adds ISO 27001 compliance to its existing suite of product and organizational certifications, including Common Criteria EAL4+, NITES, NISA, ANSSI, ISO 9000 and many others. This new certification demonstrates Waterfall's leadership in the emerging field of industrial supply chain security.
"We are pleased to add ISO 27001 certification to our existing suite of organizational, product and regional certifications," said Lior Frenkel, CEO and Co-Founder of Waterfall Security Solutions. "Waterfall is committed to providing our customers with the evidence and assurances they need to be confident of doing business with us and be confident of deploying our world-leading products in their most important industrial networks."
Waterfall's patented Unidirectional Gateways and related products replace at least one layer of firewalls in industrial network designs, physically blocking cyber-attacks from external networks. Waterfall's solutions enable safe IT/OT integration, enterprise visibility into operations, secure cloud connectivity and disciplined remote access and remote control.
About Waterfall Security Solutions
Waterfall Security Solutions is the OT security company, producing a family of Unidirectional Gateway technologies and products that enable safe IT/OT integration, enterprise-wide visibility into operations, and disciplined control. The company's growing list of customers includes national infrastructures, power plants, nuclear plants, off-shore and on-shore oil and gas facilities, manufacturing plants, power, gas and water utilities, and many more. Deployed throughout North America, Europe, the Middle East and Asia, Waterfall products support the widest range of leading industrial remote monitoring platforms, applications, databases, and protocols in the market. For more information, visit www.waterfall-security.com.
For media inquiries:
Anna Plot
Waterfall Security Solutions
info@waterfall-security.com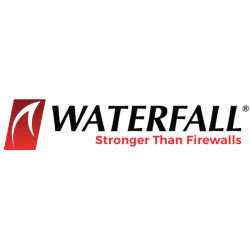 Latest posts by Waterfall Team
(see all)