Waterfall appoints cyber security veteran and industry leader to join their mission to protect critical infrastructure around the world
Rosh HaAyin, Israel – Jan 16, 2019 – Waterfall Security Solutions, a global leader in cybersecurity technologies for critical infrastructure and industrial control systems, today announced that cyber security veteran and industry leader Travis Reese is joining Waterfall's board of directors. Mr. Reese is currently the president of FireEye and was the president and chief operating officer at Mandiant before Mandiant was acquired by FireEye in 2013.
"We welcome Mr. Reese to Waterfall's board," said Lior Frenkel, CEO and Co-Founder of Waterfall Security Solutions. "With Waterfall's Unidirectional Security Gateways having gone mainstream in a growing number of industries, the unique experience in IT security that Mr. Reese brings to the board, together with his business insights and perspectives, will be paramount to our accelerated growth and entry into new markets and sectors. I am honored to have him on our board."
"I am excited to join Waterfall and help them scale to protect critical infrastructure around the world from the increasing risk of cyber-attacks," adds Travis Reese. "Through an innovative approach and proven technology, Waterfall has earned the trust of notable customers within industrial markets and critical infrastructures in the US and across the globe. The potential catastrophic impact from a cyber-attack on critical infrastructure requires the best line of defense possible.  I believe Waterfall is positioned to be one of the key players in this space."
Waterfall's patented Unidirectional Gateways physically prevent cyberattacks from any external network from entering into industrial networks. Waterfall's solutions are recognized by and are essential to many industrial control system standards and regulations, including NERC CIP, ANSSI, NEI, NRC, and IEC standards.
About Waterfall Security Solutions
Waterfall Security Solutions is the global leader in industrial cybersecurity technology. Waterfall products, based on its innovative unidirectional security gateway technology, represent an evolutionary alternative to firewalls. The company's growing list of customers includes national infrastructures, power plants, nuclear plants, off and on shore oil and gas facilities, refineries, manufacturing plants, utility companies, and many more. Deployed throughout North America, Europe, the Middle East and Asia, Waterfall products support the widest range of leading industrial remote monitoring platforms, applications, databases and protocols in the market. For more information, visit www.waterfall-security.com.
For media inquiries please contact:
Vicki Michaeli
Waterfall Security Solutions
+972-50-871-0777
vicki@waterfall-security.com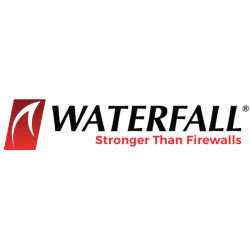 Latest posts by Waterfall Team
(see all)