Waterfall's unidirectional gateway technology provides safe IT/OT Integration and the strongest protection from remote attacks enabling: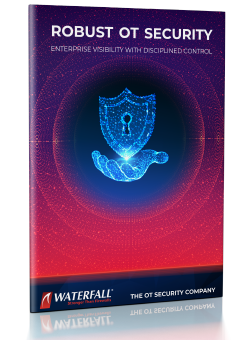 Real-Time Visibility into operations through server replication
OT network monitoring with Waterfall for IDS
Vendor remote access with Remote Screen View
IT remote access with Secure Bypass
Disciplined, scheduled updates through the Waterfall FLIP.
Waterfall's solutions provide the most specific, most secure solution for every connectivity and business need. To explore Waterfall's family of solutions for unidirectional security with disciplined control, please request a download of our Disciplined Control eBook.