The DHS report indicates: "For many industrial control systems (ICSs), it's not a matter of if an intrusion will take place, but when;" technologies like Waterfall Security's are now recommended.
Ashburn, VA – January 19, 2016 – Waterfall Security Solutions, a global leader in cybersecurity technologies for critical infrastructures and industrial control systems, today announced the recognition of unidirectional communications technologies in strategies recommended by the United States Department of Homeland Security (DHS).
The DHS report, "Seven Strategies to Defend ICSs," issued in December 2015 by the National Cybersecurity and Communications Integration Center (NCCIC), highlights the increased frequency of successful intrusions into U.S. critical infrastructure systems and the high likelihood of future attempts. As a result, the report details its top seven strategies required to protect industrial control systems (ICS) from cyberattacks.
The report cites, "In Fiscal Year (FY) 2015, 295 incidents were reported to the Industrial Control Systems Cyber Emergency Response Team (ICS-CERT), and many more went unreported or undetected." It recommends seven strategies that would have addressed all the breaches and would have protected the safety and reliability of the affected industrial operations. Three out of the seven strategies recommend using hardware-enforced unidirectional communications, a technology pioneered by Waterfall Security Solutions. Since 2007, Waterfall's unidirectional gateways have been trusted by, and deployed in, industrial sites, manufacturing facilities, critical infrastructures and global industrial vendors.
"This latest report issued by the U.S. Department of Homeland Security clearly supports our technology and company mission to elevate the level of cybersecurity of industrial control systems and critical network infrastructures," said Lior Frenkel, CEO and co-founder, Waterfall Security Solutions. "The DHS report says loud and clear: you should make unidirectional gateways your first choice. Software-based security, such as firewalls, will not save you."
The increasing rate of new deployments of Waterfall Security's unidirectional gateways in power plants, pipelines, refineries, transportation systems and water systems throughout North America and Europe, together with the rapidly expanding installed-base in Asia Pacific, demonstrates that many asset owners and decision-makers already agree with the DHS recommendations.
About Waterfall Security Solutions Waterfall Security Solutions is the global leader in industrial cybersecurity technology. Waterfall Security's hardware-enforced cyber security products are focused on preventing cybersabotage of industrial control system and networks. Waterfall Security's products represent an evolutionary alternative to firewalls, and are used by industrial, manufacturing, and critical infrastructure customers worldwide. Waterfall's technologies reduce the cost and complexity of compliance with NERC CIP, NRC, NIST, CFATS, ANSSI and other regulations. Waterfall's products include support for leading industrial applications, including the OSIsoft PI™ Historian, Schneider Electric's ClearSCADA, AspenTech IP.21, the GE Proficy™ iHistorian, Siemens SIMATIC™/Spectrum™ solutions, GE OSM™ remote monitoring platforms, as well as OPC, Modbus, DNP3, ICCP and other industrial protocols.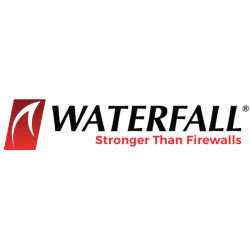 Latest posts by Waterfall Team
(see all)